E918 rf card electronic door handle lock, smart rfid hotel door lock system price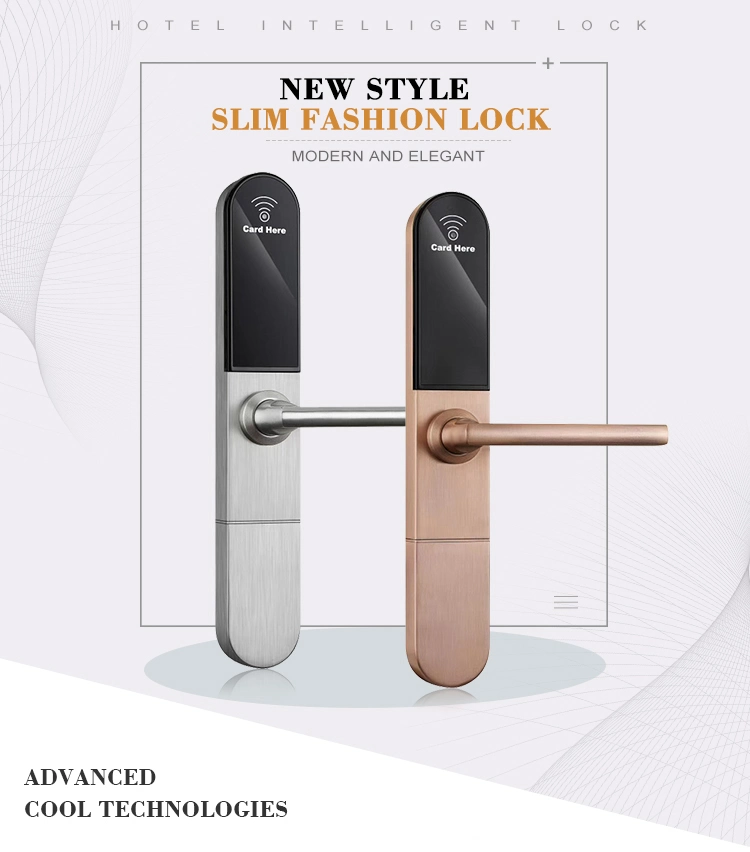 Product Description
E918 hotel lock is our new style fashion model, slim design with 2 latch mortise, mainly designed for the Thin or Aluminium & glass door! It's made of Zinc Alloy with exquisite crafts. Combined with superior performance, it's designed with safety and reliability, suitable for variety of hotels. It can be equipped with MF Classic or Temic5577 contactless card system.
Our system is more than 15 years in market, very popular and reliable! We can provide variety of locks style and design/colors for your hotel projects with reasonable cost! Our hotel management software is user-friendly and powerful, it supports various hotel management cards, handheld, common door reader, elevator controller, programed energy saving switch, network energy saving switch, programmed sauna lock… it works well for various hotels from popular to high-end!
What's more, we could upgrade our hotel system from conventional offline system to high-end advanced TCP/IP Network Wired & 2.4G Zigbee Wireless Online system, it supports remote monitoring, download/upload data real time, open door remotely... very convenient for hotel management. Some hotels prefer this kind of system!
Features:
• Zinc Alloy with surface treatment Plating.
• Low consume, high sensitive control PCB board.
• RFID M1 card (optional Temic T5577 card).
• Power: 4 pcs AA battery, 8-12 months' life.
• 238 lock events saved circularly.
• 2 Latch slim mortise design.
• Low Battery Voltage warning(beep and red light).
• Passage mode for meeting case.
• Lock & System operation record printable.
• Hotel lock system(free) required.
• Emergency key override.
• 40mm-50mm thickness door.
Technical Specification:
| | |
| --- | --- |
| Product Parameter | Description |
| Material | Zinc Alloy with surface treatment Plating |
| Color | Silver, Black, Red copper |
| Card Type | RFID M1 card (optional Temic T5577 card) |
| Software | Hotel Management Software with user-friendly interface |
| Mechanical Key | Unique or optional Univeral Key |
| Power | 4 pcs AA battery, 8-12 months' life |
| events | 238 lock events saved circularly |
| Mortise Type | 2 Latch slim mortise design |
| Support | Low Battery Voltage warning (beep and red light) |
| Advantage | Advanced surface processment, durable and long life, free turning round handle |
| suitable door | Support 40-50mm door |
Product display